Hi, today's post is devoted to beauty oils or actually one that has stolen my heart and takes the place of honour among all beauty products I use daily.
Before I move on to the review I'd like to know:
do you use natural oils in skin and hair care?
if you do, which oils are your favourites?
I've got my mini-ranking of best natural beauty oils and I have no doubts about the winner which will never be replaced in my beauty kit. Which oil do I mean?
Almond oil. The best to treat… everything!
I bought my first almond oil a year ago right after reading a short guide to the best skin and hair care oils. I often buy on impulse. Too bad, I don't always make good choices. This time, though, it was a jackpot because almond oil:
treats dry hair
works well for make-up removal and skin care
is an unbeatable oil to reduce stretch marks, cellulite and scars
makes a good protective shield against the sun or air pollution and toxins
is an effective beautifying oil that makes hairstyling easier
has antiageing effect, that is blocks ageing process
soothes all kinds of irritations
Which almond oil to choose?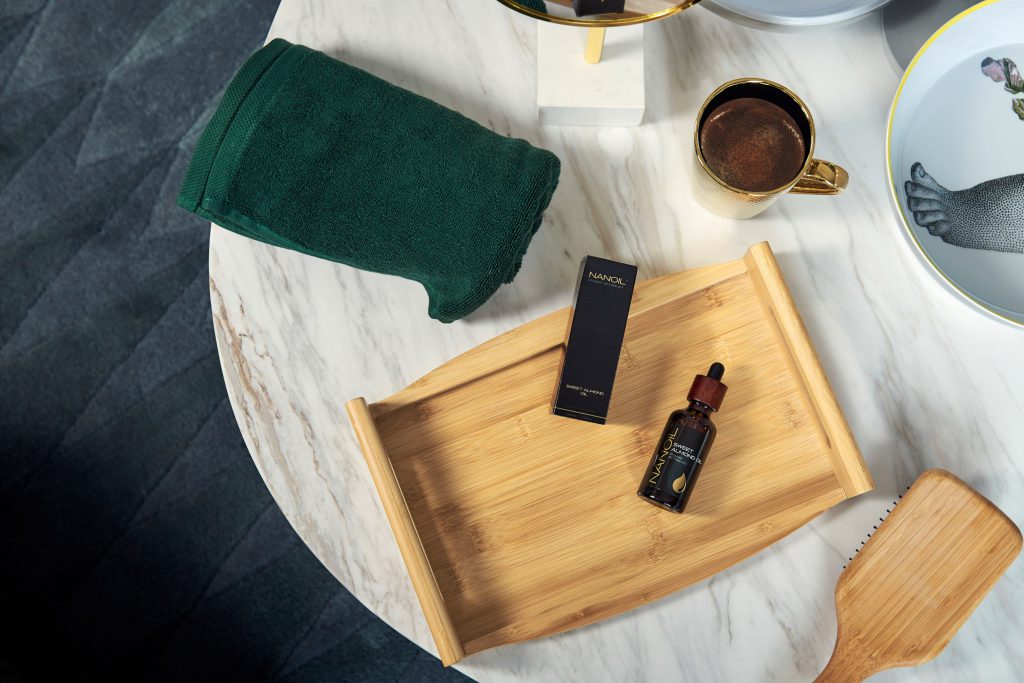 Vital thing! Not every almond oil works the same. The cosmetic market is full of fakes and poor-quality products so choose wisely.
Here's my piece of advice: use good brands selling products which are (it matters a lot when it comes to oils) cold-pressed, unrefined and organic. The fewer the additives, the better because this translates to the product's naturalness and quality.
And that's the very reason why I picked Nanoil almond oil. I believe it to be the best natural oil available. And here's the justification!
The best: Nanoil almond oil
INCI: 100% Prunus Amygdalus Dulcis Oil
Similarly to every quality almond oil, Nanoil is cold-pressed from sweet almonds and it's not refined. What does that mean for you and me? Most of all, we're certain that the oil holds all that's best in the plant: omega fatty acids, minerals, vitamins (A, E, D), phytosterols, etc. That's the very reason for Nanoil almond oil working so well: it brims with nutrients!
At the same time, it's very light, fast-absorbing and non-greasy for skin or hair (contrary to some other oils).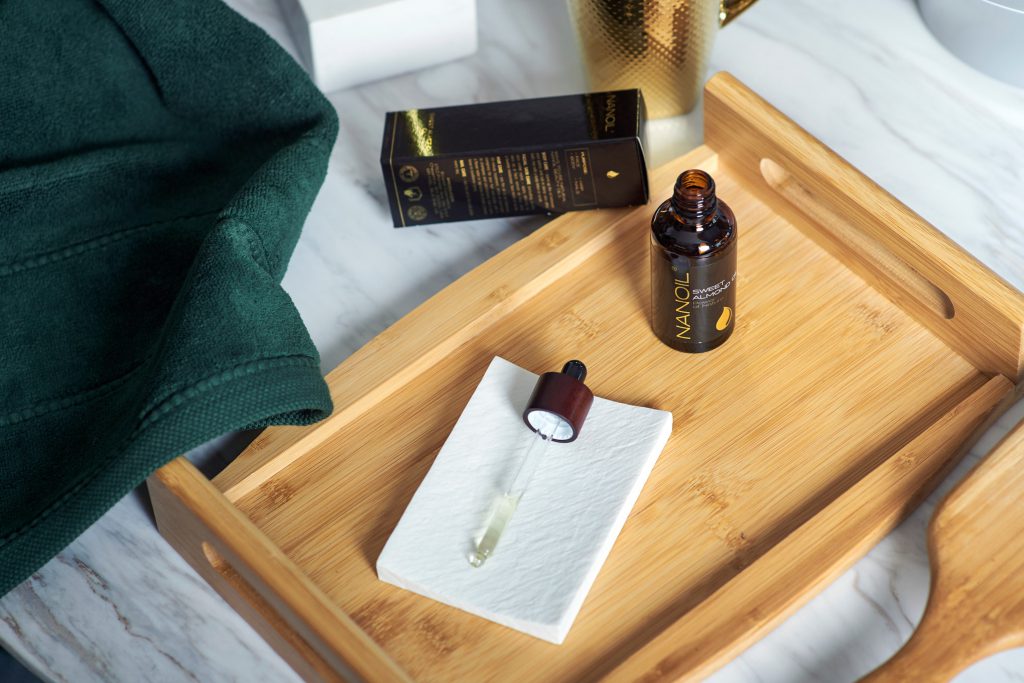 P.S. I admit that I also love the packaging of this oil. Nanoil looks remarkably in this lovely dark glass bottle so it's impossible not to put it somewhere on a dressing table so everyone can see it.
What's the effect of Nanoil sweet almond oil?
It depends on what you use it for. I always have my Nanoil on me and use it whenever I need some care: for hair, for face skin, for entire body.
I feel like I could spend hours writing about it benefits but I'll try to cut it to a few critical uses and effects.
Almond oil hair conditioner: it's cut out for hair oil treatment and hair care in tune with nature. It delivers essential nutrients, strengthens hair throughout its length, prevents splitting, as well as gives a healthy shine and makes hair soft.
Almond oil for hair and skin protection: if you apply it after a hair wash or simply to skin, you can be sure that it is going to shield against the sun (natural UV filter), toxins and free radicals.
Almond oil scalp treatment: let it be your scalp conditioner. It has soothing effect, may reduce itchiness and restore pH balance to scalp. At the same time, it keeps hair from falling out, strengthens and boosts volume.
Almond oil skin care: this incredibly delicate oil works well instead of a moisturizer or face serum thanks to very light consistency. Regularly rubbed into skin, it delivers nutrients, relieves irritations and strikingly rejuvenates.
Almond oil for make-up removal: take off all make-up products using almond oil (ideally, mix it with Nanoil castor oil first). It tackles even waterproof cosmetics, moisturising, nourishing and conditioning skin at the same time.
Almond oil to treat nails: it is a brilliant nail enhancer, strengthening, preventing breakage and splitting. It successfully replaces conditioners which smooth out and give shine, as well as speed up nail growth.
Almond oil to eliminate stretch marks and cellulite: an essential in all moms-to-be and moms' beauty bags. When applied systematically, it is able to visibly improve skin's elasticity. It is among few oils that deal with stretch marks and cellulite so easily.
Almond oil as a body lotion: obviously you don't need to wait until stretch marks appear in order to use it. Massaging the skin with the oil improves blood flow, firms up, rejuvenates skin, adds healthy shine and boosts moisture.
Nanoil oils. To buy or not to buy?
Before summing up, I must tell you that almond oil isn't the only product from Nanoil. The brand offers six natural beauty oils (all having the same brilliant quality). Apart from almond oil, there's: argan oil, avocado oil, jojoba oil, macadamia oil and castor oil so we all get a chance of choosing the right one.
The choice is worth making because [Nanoils] are BEST FOR BEAUTY CARE! I'm not kidding: super long-lasting formula, ultralight consistency, all-purposeness and real effects. Check that on your own skin 🙂
More information on Nanoil products can be found on nanoil.us.