Does your skin lack moisture?
Mine used to lack it terribly. I had this continuing problem that kept affecting my face and was really troublesome to combat. This problem took the form of dry skin patches that not only impeded applying makeup but also annoyed me badly. After all, there is nothing more demotivating than the situation when you keep failing after making hundreds attempts…
From the moment I started using hyaluronic acid face serum I've forgotten what dry skin patches are. However, before I managed to find an effective face serum, I wasted quite a sum on many disappointing products. I want to protect you from wasting your time an money, and therefore I'd like to recommend you a face serum that has been my favorite skin care product for a few months now.
When it comes to effective skin hydration, there is just one undisputed winner/irreplaceable cosmetic – Nanoil Hyaluronic Acid Face Serum. Ready for a short description?
Skin hydration with hyaluronic acid
It may seem that you need only water in order to improve skin hydration, right? Well, not necessarily. Studies proved that water isn't able to penetrate skin deep enough and without the right protection, it will evaporate faster than you think. Therefore, to be successful in replenishing skin with water, you need humectants and emollients.
The prime example of emollients are obviously natural beauty oils that when applied to skin (either solo or in cream) prevent water from evaporating. But what about humectants that are substances known for being the carriers of water and help it reach deepest skin layers?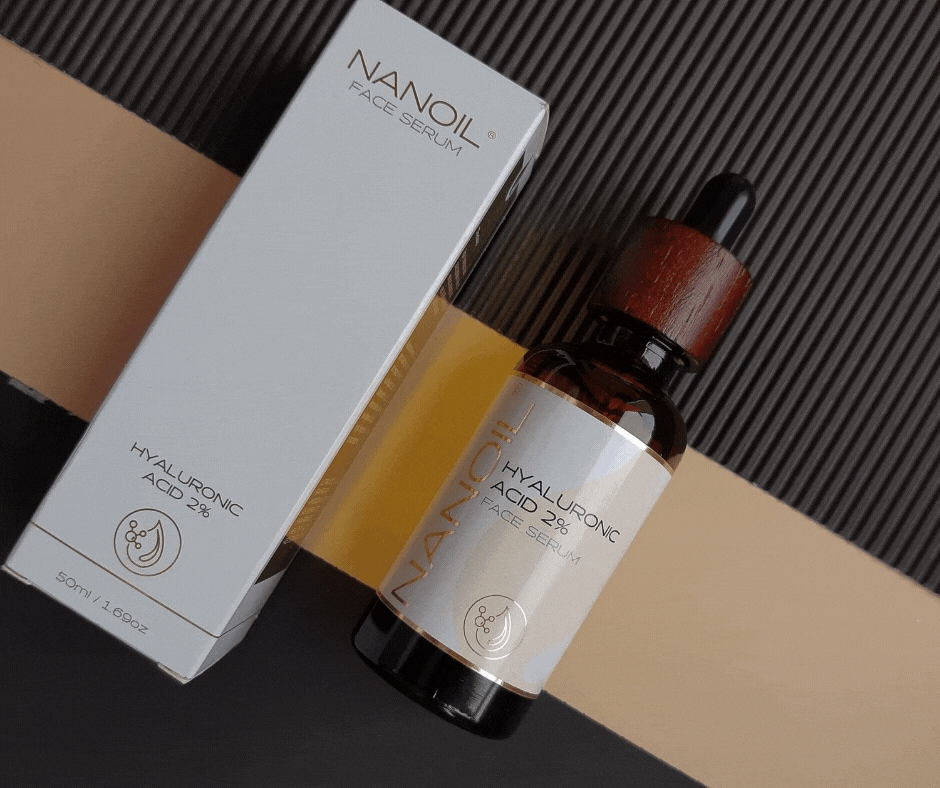 The most effective one is hyaluronic acid.
Hyaluronic acid is the best humectant – just one molecule of this acid is able to bond 250 water molecules and in the same way effectively improve hydration.
Hyaluronic acid makes one of our skin's natural building blocks – together with decreasing levels of hyaluronic acid, collagen fibers get weaker, skin becomes less resilient, is more dehydrated and dull.
How to moisturize skin with hyaluronic acid?
Naturally, you can try using pure hyaluronic. There are many face gels offering various concentrations of this acid. You can buy them online. Alternatively, you can also visit a beautician and pay for some super-hyper-ultra-effective face treatment that also makes use of hyaluronic acid. However, I'd recommend you to follow a different path.
You will manage to improve and maintain adequate hydration levels in your skin at home providing that you use a face serum with hyaluronic acid. It's far better than creams, masks and other cosmetic procedures because with this product you supply your skin with a daily portion of this essential substance. Just 2-3 drops patted into all face parts shall not only give you the moisture you want but also soothe irritations.
The best hyaluronic acid face serum
Undoubtedly, the best option here is Nanoil Hyaluronic Face Serum that in my opinion it is the most effective hyaluronic acid that you can currently get. It looks luxurious, offers good value and can be ordered online with home delivery option. But this isn't the best part yet!
There are several more reasons why I'd like to recommend you this product – in my view, Nanoil face serum with hyaluronic acid has no equal because it:
is incredibly lightweight and is well-absorbed by skin.
can be safely used on all skin types, even sensitive.
is made from 4 ingredients only, including hyaluronic acid.
is free from parabens, colorants, aromas, etc.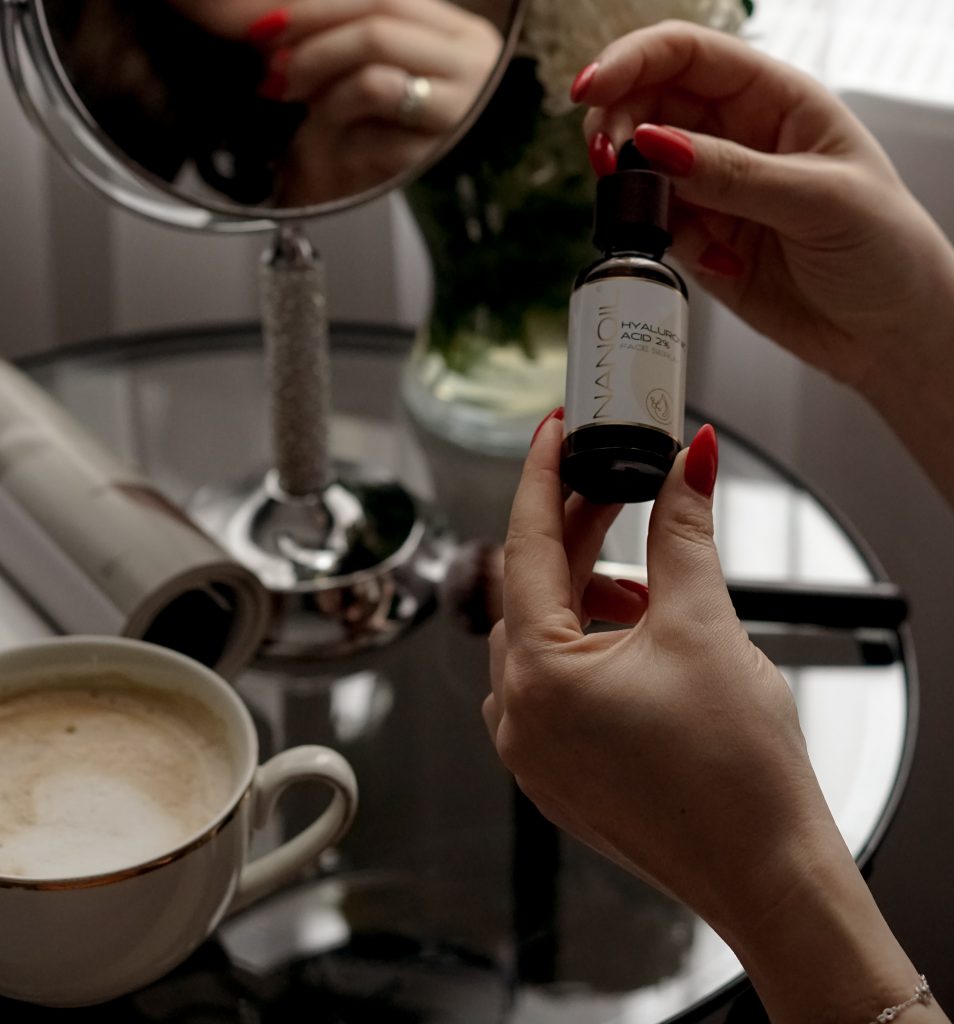 Nanoil face serum with hyaluronic acid
Nanoil Hyaluronic Face Serum was recommended to me. My friend already used Nanoil beauty oils and sent me the link to the official store once she found out that there were some new products introduced into the offer. She knew that I was looking for something that would effectively hydrate my skin and among the new products there was this face serum with hyaluronic acid – one out of 4 professional face serums. And this is how my love story with hyaluronic acid began.
I started applying this face serum soon after I bought it. In the evening I removed my makeup as normal, washed my face and patted Nanoil face serum with hyaluronic acid. Effect? Just one drop sufficed to let me feel this instant hydration and soothing. Obviously, this was just the beginning, yet how promising it was! I kept treating my face with Nanoil Hyaluronic Face Serum every day in the morning and evening, and I could see my skin looking and feeling better with every use.
Now I know that this is the best moisturizing face serum that you can have. I'd recommend it to literally everyone who is looking not only for some effective ways of replenishing skin with water but also for those how are seeking skin revitalization and rejuvenation. I always point to my face to show the proof. Currently my skin is: deeply moisturized, smooth, definitely more resilient and brightened up – just beautiful. I no longer remember what dry skin patches look like.
Naturally, you don't have to believe me, therefore I advise you to test this face serum on your skin. Nanoil Hyaluronic Face Serum  (50 ml / 1.69 oz) is available on www.nanoil.us.
I'm sure you won't be disappointed!