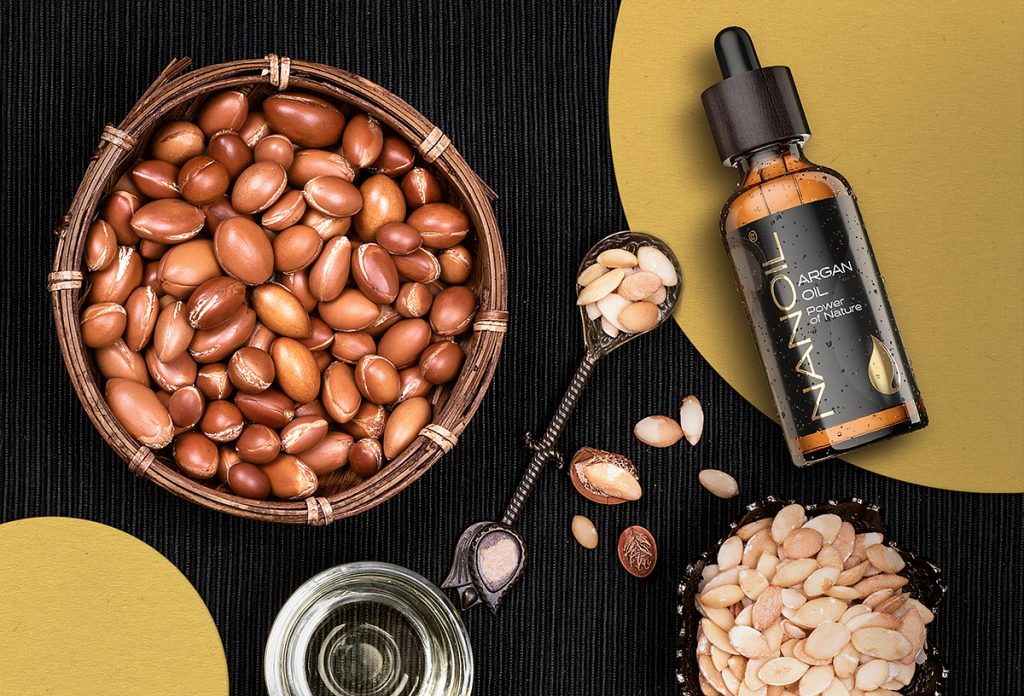 It has a moisturizing and antiaging effect, and abounds in active ingredients… Sounds like a perfect cosmetic, doesn't it? It's Nanoil Argan Oil, my favorite beauty oil. 🙂
---
Argan oil from Nanoil is a rich source of the most important ingredients for skin and hair. Extracted from the fresh nuts of Argan trees growing exclusively in one part of the world: south and west of Morocco. Because it's cold pressed and not refined, it keeps most of the valuable properties.
Nanoil Argan Oil: what properties does it display?
This gold oil is mostly made from EFAs, essential fatty acids, mostly oleic and linoleic acids which have amazing properties and are non-comedogenic. They create a thin coat on the skin surface which – together with face oil – keeps skin hydrated and supports its protective barrier.
Oleic acid: it maintains hydration levels in the skin, prevents transepidermal water loss to keep the skin moisturized, plus repairs hair, restoring its shine and resilience.
Linoleic acid: it is a natural ingredient in human sebum so it balances the functioning of sebum glands, leaving the skin moisturized and fresh, plus reduces comedones.
There aren't just two actives though. Nanoil Argan Oil contains over 100 antioxidants! I'm sure you're familiar with those:
Vitamin E: it can penetrate the skin deeply, fights wrinkles and smooths face lines, counteracts free radicals, restores youthful glow and evens the skin tone.
Carotenoids: they stimulate fibroblasts, revitalize collagen and elastin fibers that are damaged from the UV rays, reduce transepidermal loss of water, build skin's strength and speed up skin healing, plus ensure beautiful, healthy skin tone.
Squalene: it is a natural ingredient in sebum; it has antibacterial, repairing and nourishing effects, delivers oxygen to all body cells, keeping the skin young-looking.
Polyphenols: they strengthen and seal the capillaries, stimulate blood flow, have anti-aging, anti-inflammatory and antibacterial effects, act as strong antioxidants, and prevent pigmentation spots and sun-damaged skin.
Argan oil from Nanoil – effects
it has a moisturizing, revitalizing and nourishing effect,
it delays skin aging,
it is a potent antioxidant counteracting free radicals,
it strengthens hair, brows, lashes and nails,
it improves skin's elasticity and firmness,
it delivers vitamins and minerals to tissues,
it soothes sun-burnt, irritated skin or minor cuts,
it is gentle and safe for AD, eczema and psoriasis sufferers,
it helps fight cellulite, scars and stretch marks.
What makes Nanoil's argan oil different?
It is a quality oil for all skin and hair types. Nanoil Argan Oil is vegan-friendly and cruelty-free. The organic formula got a mark from ECOCERT. No intense color or smell. Nanoil has all the nutrients that are valuable. It is also hypoallergenic, non-comedogenic and 100 percent natural – you get product without parabens, silicones, and other synthetics. It's a top pick among eco-beauty enthusiasts, vegans, vegetarians and all those who have problematic, acne or sensitive skin.

You can find my perfect cosmetic here nanoil.us. Share your results, leave a comment! XOXO
---