Do you remember to provide heat protection to your hair before reaching for a blow dryer? Sadly, it's impossible to heat style your strands without inflicting any harm on the poor tresses. That's why I strongly – yet tactfully – suggest applying heat protectants prior to using a flat iron or any other heat tool. This is how you can steer clear of dehydration, dullness and brittleness.
In a moment you'll learn the names of the best heat protection sprays that I've had a chance to test on my hair. I'm sure that by the time you finish reading this post, you'll know which product is suitable for your tresses. But before that, let's talk briefly about the application of heat protection sprays, so that you have the full picture on that issue.
Do you need to apply heat protection spray to wet or dry hair?
Basically you can do this both ways. I personally apply heat protection spray to dry hair because I always let it air dry. But whenever I need to speed up this process and blow dry the strands, I spray them with the protectant after removing the excess water with a towel. Then I move on to the styling.
Should you put heat protection spray on the scalp?
Well, I wouldn't do that. It's better to spray just the hair, avoiding the scalp completely. Generally, it's a good idea to add an extra portion to the hair tips. Sometimes I also comb the hair to spread the product evenly, but this step isn't obligatory. And I spray the hair with a heat protectant a few seconds before reaching for a heat-styling tool. This product doesn't need extra time to start working, which is great because you don't waste your time.
BEST HEAT PROTECTION SPRAYS FOR HAIR [ranking]
Below you'll see the heat protection sprays that have proven to be perfect for my hair. Naturally, the order I put these products in isn't coincidental. The top ones work best, at least in my opinion.
#1: Nanoil, Heat Protectant Spray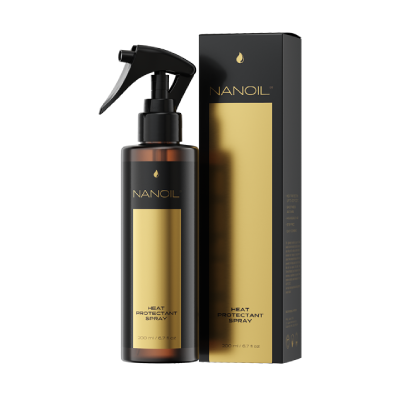 I know that it may sound silly but I fell in love with its smell. It's subtle and lingers on the hair for a few hours, which I absolutely love. But when I applied this spray for the first time, the obsession over the aroma transformed into the obsession over the effects. Nanoil Heat Protectant Spray is a compulsory stage that I always take before straightening or curling my strands. I use it before blow drying too, but I think that's obvious. To my surprise, I also noticed that using it when I have a #badhairday helps me look prettier in a snap – it leaves my hair shiny, smooth and soft. However, the most important function of a heat protectant spray – which I noticed – is that my hair is less prone to dryness and brittleness. Actually it's constantly moisturized. Finally, let me tell you that Nanoil launched an easy-on-pocket heat protection spray available in a 6.76 fl oz (200 ml) bottle.
Visit – www.nanoil.us
#2: Kemon, AND Heat Spray 13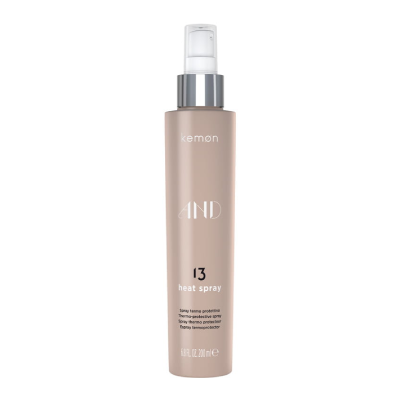 This one was recommended to me by my hairdresser who uses it in her salon. This spray is super lightweight, you won't even notice that it's on your hair. Still, you need to apply quite a portion to make your strands perfectly secured from the heat damage. Luckily, AND Heat Spray 13 is easy to apply. What I also like about Kemon product is that it also provides UV protection, and this quality makes it one of the items that I always pack into my bag whenever I'm going to visit some sunny place. I use it less often during other seasons because it runs out fast and doesn't give me the shine boost effect.
#3: Balmain, Thermal Protection Spray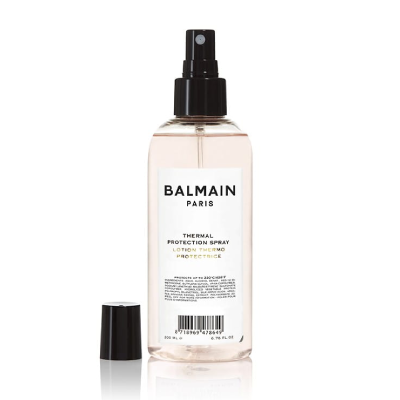 Let me present to you another big-size spray (6.76 fl oz / 200 ml) that – sadly – isn't low-priced. I grab it mainly prior to using a flat iron, but it also seems to keep hair safe from the damaging effect of a curling rod. From what I've noticed, Balmain Thermal Protection Spray promotes shine and leaves hair sleek, which helps me keep my hair straight for longer. I also like the fact that this heat protection spray is sold in a translucent bottle, which makes it easier for me to control how much product I have used. And even though I like the effects it creates, I don't think I'll buy it again unless I get some big promo code on it.
#4: CHI, 44 Iron Guard Thermal Protection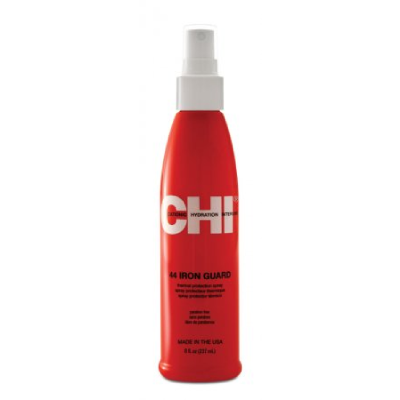 I like this heat protectant but to be honest with you, I don't think it shields hair from high temperatures as effectively as the above-mentioned products. It leaves hair shiny and has a really lovely aroma, but that's not the real reason for using a heat protectant, right? Correct me if I'm wrong but it works okay unless you don't set the temperature on your heat tool to more than 300 F / 150 C. Whenever I used higher temperatures, I had an impression that 44 Iron Guard Thermal Protection didn't do its job. Anyway, I believe that you can use it to boost shine and provide moderate protection to your hair, especially that it doesn't cost much.
Best heat protection sprays for hair: Summary
These are my four best heat protection sprays for hair that I've tested and recommend to everyone. Even though Nanoil thermal spray seems to be the best for my hair, you may have a go at other products. Nevertheless, I'm sure that choosing Nanoil Heat Protectant Spray will give you the best results. Let me know in the comments if you use heat protectants, or are you one of those who consider such products useless (I hope you don't!).